James and Peter met while studying at NUST. On completion of their studies, they decided to carry on business in partnership, which is selling pesticides in the Namibian market. They shared profits and losses equally. The partnership is not a VAT registered person. The following information is provided for the partnership for the financial year ending 28 February 2017: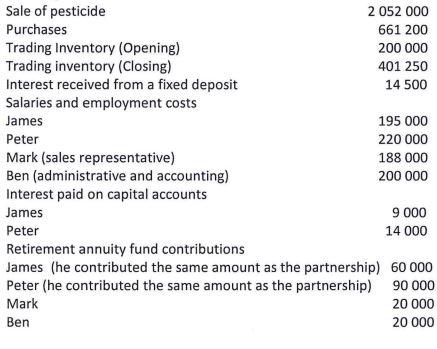 The partnership sold goods to Mary in the 2016 year of assessment.
Mary made no attempt to settle the debt and the partners decided to write an amount of N$11 000 as irrecoverable.
On 1 December 2016 the patent was due to expire and the partners paid N$15 000 to renew the patent for the next 3 years. The partnership registered a new patent for a period of 3 years and paid N56 000 on 1 June 2016.
On commencing the business in January 2015, the partners acquired a new machine at a cost of N$210 000. This machine was inadequate for its intended purpose and consequently sold in June 2016 for N$60 000. Another machine was purchased in September 2016 for N$750 000.
Required:
Calculate the taxable income of James and Peter for the 2017 year of assessment. When an amount is not included in the calculation, the reason for such treatment will earn  marks.?